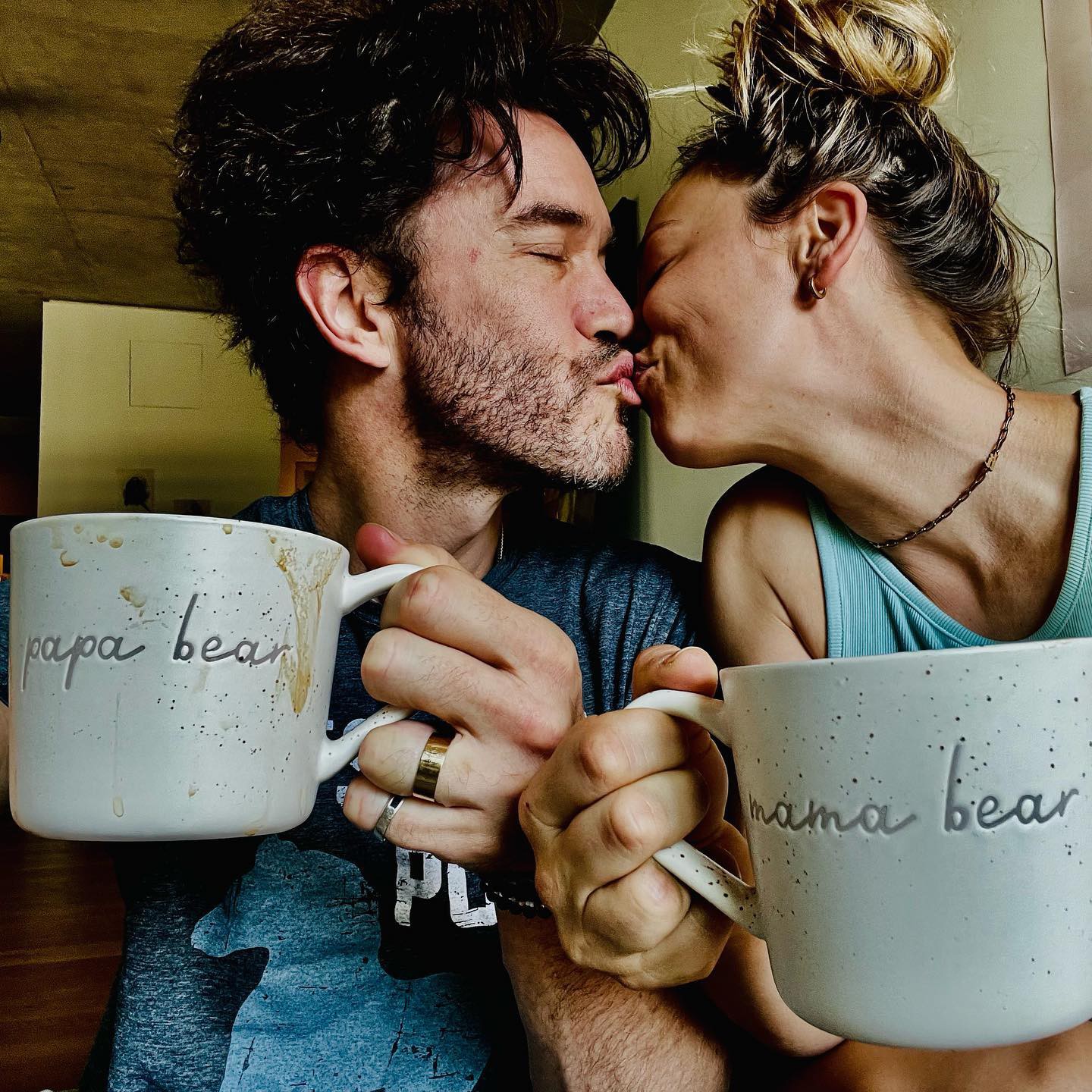 Baby girl Pelphrey coming 2023 💕 beyond blessed and over the moon…
Congratulations to the happy couple!
The Big Bang Theory's Kaley Cuoco has landed her first ever role in a feature film.

That's right, the 34-year-old will be starring alongside Kevin Hart and Woody Harrelson in the upcoming hit The Man from Toronto. While not much is known about the movie, it's said the plot will follow the world's most notorious assassin as he comes face to face with a New Yorker during a night at an Airbnb. The duo are expected to clash, which could turn out deadly for the both of them.

Alongside the announcement, the animal lover wrote: 'In a time where things feel uncertain, this kind of news makes me feel incredibly grateful and elated! 'Am I dreaming? Can't wait to reunite with @kevinhart4real and basically sit there while he makes my face hurt from 24/7 laughter and Woody?! What?!'
Actress Kaley Cuoco of "The Big Bang Theory" fame has sold her home in Tarzana for $3.95 million, or about $3 million less than the original asking price — $6.9 million.

Cuoco, among the highest-paid television actresses during her run on "Big Bang," bought the estate through a trust in 2014 for $5.499 million, The Times previously reported. Former Lakers forward Lamar Odom and reality television personality Khloe Kardashian were the prior owners.

Updated during the actress' ownership, the Mediterranean-style home has about 8,000 square feet of curated living space, a rotunda entry, a movie theater, six bedrooms and eight bathrooms. A living room with a wet bar and a suspended bench/swing sit off the entry. The two-story floor plan also has a formal dining room with coffered ceilings and a snazzy chef's kitchen with a center island.

Outside, there's a covered arbor, an outdoor kitchen and a swimming pool with a spa. The landscaped grounds cover three-quarters of an acre. Cuoco, 34, appeared in the series "8 Simple Rules" and "Charmed" before starring as Penny in "The Big Bang Theory." On the film side, her roles include "Authors Anonymous," "The Penthouse" and "The Wedding Ringer." Stephanie Vitacco of Keller Williams Realty was the listing agent. Barry Dantagnan of Coldwell Banker Residential Brokerage represented the buyer.
Kaley Cuoco is moving on, not just from "The Big Bang Theory" … she's also unloading her awesome estate. Our real estate sources say she's just listed her $6.9 million home in the super-exclusive Mulholland Park estates in Tarzana.

The 7 bedroom home is in a super secure gated area. Some of the celebs who have lived there or still call the place home include Kevin Hart, Khloe and Lamar, Kendall Jenner, Bruce Willis, Chris Tucker, Christina Aguilera, Charlie Sheen, Paris Hilton, Slash and Magic Johnson. As for Kaley's home, listed by Keller Williams agent Stephanie Vitacco, it's 8,000 square feet, customized to the 9's, has a library, an amazing outdoor entertaining area, and a pretty awesome backyard with a pool.
She's 'Excited For The Next Chapter' – The actress is 'planning on starting a family as soon as the show wraps.'

Newlywed Kaley Cuoco Opens a New Window. and hubby Karl Cook Opens a New Window. are anxious for "The Big Bang Theory" to end — so they can get busy making a baby Opens a New Window. , RadarOnline.com can exclusively reveal! "They're planning on starting a family as soon as the show wraps!" dished a source.

The sitcom cutie, 33, and the handsome equestrian athlete Opens a New Window. , 28, tied the knot on June 30 — and have been sharing their wedded bliss with pictures on social media.

"Kaley wanted some one-on-one time as a married couple before the stress of trying to get pregnant," an insider snitched. "But once the show is over, she's decided to concentrate on making a family!" "Big Bang" will sign off in May after a 12-year run, and sources said Kaley is looking for gigs that won't interfere with her pregnancy and first days as a new mom.

"Kaley knows she has her pick of options after the success of 'Big Bang,' " the source spilled Opens a New Window. "She's considering voice-over work that won't require much time — or for her to regain her pre-baby body right away. "She can't wait for this next chapter!"
Hi everyone! I'm Hannah, the new owner to Kaley Cuoco Central. I spent this morning adding content to this web site, and now the navigation is fully functional. In addition I updated the gallery since there has been no sign of updates since June last time.
I want to thank the host for letting me take over this fan site as I truly adore Kaley, ever since she was on the 8 Simple Rules. I will do my best to deliver the absolute latest on Kaley Cuoco to you all. Check back soon for more updates!
Gallery Links:
— John Russo / 2018
In a story that many women will find familiar, Kaley Cuoco, one of the stars of the long-running sitcom The Big Bang Theory, once met a great guy. It was love at first sight, at least for a little while. He was hot. (A jawline that could carve stone!) He was funny. (His jokes cracked everyone up.) He was famous. (Like, really famous.) He was just an all-around stellar dude. It was all so perfect that Cuoco thought she could see her future with him, including their little babies and those growing-old-together parts. Everything was falling into place . . . until the check arrived after their first dinner date. It was then that she discovered his dirty little secret: He was cheap.
So exactly how does one get over a dating a stingy tipper? Can the subject be broached? According to Cuoco, dealing with the situation successfully has to do with devising post-dinner gratuity tactics. Or sometimes, it's simply better not to go out. But would that be sustainable for the rest of our lives? In other words: Is it possible to truly love someone 100 percent if they are only leaving 8 percent on the check? And who, exactly, was the superstar guy? Here, in the latest episode of Sad Hot Girls, watch Cuoco recall her cringeworthy experience with the cheap boyfriend. [Source]